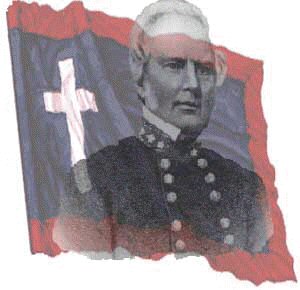 Lee Meriwether
by Gene Dressel
He was one of our most fascinating members . He served as Camp Commander on several occasions, the first being around 1915. In 1964 he was made" Honorary Commander" of the Camp. Lee was born during the War for Southern Independence, (December 25th, 1862), and lived to see America go through the Spanish-American War, WWI, WWII, the Korean Conflict, and the beginnings of the Vietnam War. He died March 12th, 1966 at the age of 104. One of his books titled My First 100 Years 1862-1962 gives a good account of his full, rich life. He was born in Columbus, Mississippi and was the son of Lieutenant Colonel Minor Meriwether and Elizabeth (Avery) Meriwether. Colonel Meriwether was a Engineering Officer in the Confederate Army, who had helped design and construct the fortifications around Vicksburg. Colonel Meriwether named his son "Lee", in honor of the great Southern Gentleman/General Robert E. Lee. Lee Meriwether was educated in Memphis, Tennessee. When the "yellow fever" hit Memphis in the 1870's the Meriwethers moved to St. Louis and built a fifteen room brick home on Delmar near Grand Avenue. In 1884 Lee worked assignments for the Philadelphia Press in California. In 1885 his father wanted him to attend law school, but at age 22, Lee felt that he hadn't seen enough of the world yet. For the next two years he wandered across Europe from Naples, Italy to Moscow. On returning he wrote his first book "Tramp Trip- How to See Europe on Fifty Cents a Day".
In 1886 he was appointed Special Agent for the United States Labor Bureau, and went about the country gathering statistics for the bureau. He was sent to Hawaii in this capacity, and met with King Kalahaua on several occasions, supposedly to study labor conditions there, but in reality having a fantastic vacation at the government's expense. In 1889, during an era of violent coal miner strikes in Missouri, Governor Francis appointed Lee "Missouri's Labor Commissioner". He took the side of the miners and fought to rid the State of the corruption that infested both big business and the labor unions. As Missouri's Labor Commissioner, Lee was living in Jefferson City. At night he studied law and passed the Bar exam in 1889. Always a crusader for the rights of the common man, Lee toured the prisons of Portugal in 1892, and wrote his second book, " Afloat and Ashore On The Mediterranean". With his record of uncovering corruption, Lee sought the Democratic nomination for Mayor of St. Louis in 1897, but due to a corrupt political machine the election was stolen from him. As a result the Republican candidate for mayor won. In 1901 he ran again, but the "Political Boss" of St. Louis (Edward Butler) feared a crusader like Meriwether, and rigged the election so that the Democratic Party machine candidate (Rolla Wells) won. Meriwether had actually received 13,000 more votes than Wells. The St. Louis Republic newspaper did a scathing article condemning Meriwether (evidently they were a part of the political machine), and Lee sued them for $20,000. He won and used the money to purchase rental property that provided a handsome return for the rest of his life.
In 1916 Lee was appointed Special Assistant to the American Ambassador to France. His assignment was to evaluate how the French treated German prisoners of war. He was there til 1919, and was in Paris when the Germans began their bombing campaign of the city. In 1924 Lee and his wife (he had married Miss Jessie Gair in 1895) were touring Europe, and were in Berlin while Hitler's "Putsch" was going on. He rightly predicted the beginnings of WWII.
Lee remained active in world politics throughout his life, and wrote a total of fifteen books, but his first love was the Sons of Confederate Veterans. In 1908 at the Birmingham Reunion he was the keynote speaker, and recounted his boyhood reminiscence of President Jefferson Davis. He joined the SCV for the express purpose of keeping "History's record straight", and resisted every effort by northern revisionists to slander the South. It was a lifelong passion of his, and he never backed away from an opportunity to defend Southern Heritage.