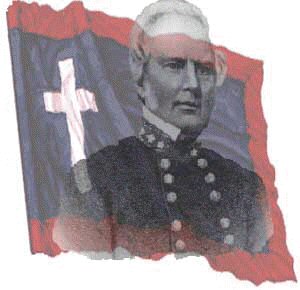 Noble Kendall Wyatt
by Gene Dressel
Served as Camp Commander from 1978 til 1980. He was born in Charleston, West Virginia, on December 22, 1919, and was the son of William Howard and Helen Elizabeth (Hubbard) Wyatt. His mother's grand father, John Calvin Gillespie, served in Company "F" of the 50th Virginia Infantry. John Gillespie was captured at the battle of Spottsylvania on May 12th 1864, and sent to Point Lookout Prison. He escaped on April 1, 1865 and returned home at war's end. Commander Wyatt was a graduate of Charleston High School, Charleston, West Virginia, and worked for the Owens-Illinois Glass Co. for forty-two years. At retirement he was serving as Industrial Relations Director at their Mold Manufacturing Plant in Alton, Illinois. During his years of active service to the SCV he was involved with many outstanding projects. His most notable achievement was the successful removal of the remains of Confederate Major-General Bushrod Johnson from a small country cemetery at Miles Station, Illinois, and having him placed by his wife's side at the Old City Cemetery in Nashville, Tennessee. In 1977 with the help of many friends, he had a monument erected to General Johnson on the Chickamauga Battlefield. In 1978 he received the Jefferson Davis Medal from the United Daughters of the Confederacy in Chicago, Illinois for these projects. Other projects included:
Placing a gravestone on the final resting place of John Calvin Gillespie, Co."F", 50th Virginia Infantry.
Placing a gravestone on the final resting place of General "Stonewall" Jackson's mother at Ansted, West Virginia.
Having a bridge in West Virginia named for Confederate soldier, James P. Lanham (who was buried nearby). Lanham had served in the 22nd Virginia Infantry under Col. George S. Patton.
Writing the final chapter of a reprinting of, "The Curious Career of Gen. Bushrod Johnson". The book was reprinted by "Blue and Gray Magazine".
Helping to preserve a portion of the old Alton Prison wall which held many Confederate prisoners. 6. Saving the wrought iron fence around the Confederate Cemetery on Rosier Street in Alton, Illinois. Assisting James I. Robertson with his latest book on General Stonewall" Jackson.
Refurbishing the historical marker at the Battle of Scary Creek, which was the first Confederate victory in the Kanawha Valley of West Virginia.
Placing a granite marker at Miles Station Cemetery, Illinois, marking the old burial site of Gen. Bushrod Johnson.
Mr. Wyatt is a strong supporter of the Boy Scouts of America, and enjoys visiting battlefields, graves and historic sites