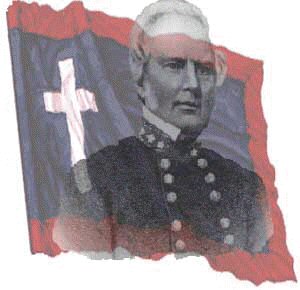 Joseph Addison Barber, A Moss Bluff Rebel
Ancestor of Compatriot, David Barber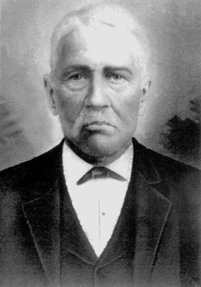 Joseph "Addison" was born October 27, 1824 in Louisiana. His parents were Samuel B. Barber (born circa 1790 in Hagerstown, MD ) and Elizabeth "Betsy" Barrow. Addison married Emmeline Frances Jackson (born December 9th, 1837, Alabama; daughter of Bill and Polly Jackson) and fathered at least 5 children. Known children are: Anna Melissa BARBER, b. June 5, 1861; Thomas Henry BARBER b. Oct 25, 1864; Augusta Eliza BARBER b. Oct 8, 1869;Martha Laura Jane "Mattie" BARBER b. Nov 29, 1873; and Ruby Amanda BARBER b. Feb 27, 1876.
Joseph Addison enrolled in the military on April 10th, 1862, Company F, Spaight's Battalion. He was 36 years old at the time and is listed in the Texas Pensions Records website.
The battalion was known as "The Moss Bluff Rebels". The Battalion consisted of some 600 men, organized in 6 company's of 100 men each. "A" Co. and "F" Co. were mounted infantry. The other companies were infantry.
The Moss Bluff Rebels, were formed up by Ashley W. Spaight's, an attorney from Alabama, who had settled in Moss Bluff , just before the war broke out. Spaight enlisted in the Confederate Army on Independence Day, 1861, and quickly raised a company of 84 men.
Joseph, joined up on April 10th, 1862, and on April 17th the company was officially designated "Co. F". Most of the men hailed from Chambers co.
Company "F" was commanded by Capt. William B. Duncan,and in early January, 1863, was sent to Sabine Pass. The company, led by Lt. Amos C. Shelton, with 26 men were able to capture the federal gunboats Morning Light & Velocity. The federals had gone below the decks in order to escape the "hot" gunfire being poured into them. They also captured 109 men and 11 guns.
The next several months were spent in Orange, Jefferson & Galveston counties. On June 21st companies "A" & "F" attached a federal garrison at Berwick Bay, Louisiana. In this action, Company "F" blocked off the federal escape route, which resulted in the capture of 1,700 federal soldiers & vast quantities of supplies, clothing, ammunitions & Enfield rifles.
The Moss Bluff Rebels also took part in a skirmish at Bayou Fordouche, on September 28th, which resulted in the capture of 462 men. These and many other skirmishes, cleared the last federal forces out of southwestern Louisiana.
Their last engagement came in April, 1864 when the federal gunboats Granite City & Wave set up shop just off Calcasieu Pass. The two gunboats were attacked on May 6th by a fierce artillery barrage that forced the gunboats to surrender, along with 166 men, 14 cannon, stores & munitions.
In November 1864 the Battalion was reorganized as the 21st Texas Infantry Regiment. This new regiment saw no action.
Joseph Addison's service to the Confederacy allowed him to apply for a Confederate pension in 1901. He was 76 years old at the time and unable to work due to "rupture." His application (No. 8246) was approved September 18th, 1901

Confederate Pension Application
(excerpted)
County of Chambers County, Texas. To the Honorable County Judge of Chambers County, Texas. Your petitioner, J A Barber respectfully represents that he is a resident citizen of Chambers County in the State of Texas, and that he makes this application for the purpose of obtaining a pension under the act passed by the Twenty-sixth Legislature of the State of Texas, and approved May 12, A.D. 1899, the same being an act entitled "An act to carry into effect the amendment to the Constitution of the State of Texas, providing that aid may be granted to disable and dependent Confederate soldiers, sailors, and their widows under certain conditions, and to make an appropriation therefore," and I do solemnly swear that the answers I have given to the following questions are true. NOTE - Applicant must make answer to all of the following questions, and such answers must be written out plainly in ink.
Q. What is your name? Answer Joseph Addison Barber
Q. What is your age? Answer Seventy six 76 years
Q. In what County do you reside? Answer Chambers
Q. How long have you resided in said County and what is your post office address? Answer Eighteen months, Mont Belvieu
Q. Have you applied for a pension under the Confederate Pension Law heretofore, and been rejected? If so state when and where. Answer Yes. Liberty County Texas
Q. What is your occupation if able to engage in one? Answer Farmer
Q. What is your physical condition? Answer Fairly good
Q. If you physical condition is such that you are unable by your own labor to earn a support, state what caused such disability. Answer Rupture
Q. State in what company and regiment you enlisted in the Confederate army, and the time of your service. Answer Company F. Speight. Texas Regiment 4 years
Q. If you served in the Confederate navy state when and where, and the time of your service. Answer (blank)
Q. State whether or not you have received any pension or veteran donation land certificate under any previous law, and if you answer in the affirmative state what pension or veteran donation land certificate you have received.? Answer None
Q. What real and personal property do you now own, and what is the present value of such property? Give list of such property and value. Answer None of either real or personal
Q. What property, and what was the value thereof have you sold or conveyed within two years prior to the date of this application? Answer None whatever
Q. What income, if any, do you receive? Answer None
Q. Are you in indigent circumstances; that is, are you in actual want, and destitute of property and means of subsistence? Answer Yes
Q. Are you unable by your labor to earn a support? Answer Yes
Q. Have you transferred to others any property of value of any kind for the purpose of becoming a beneficiary under this law? Answer have not
Q. Did you ever desert the Confederacy? Answer did not
Q. Have you been continuously since the first day of January, 1880, a bona fide resident citizen of this State? Answer I have

Wherefore your petitioner prays that his application for pension be approved and that such other proceedings be had in the premises as are required by law. (signature of applicant) J. A. Barber. Sworn to and subscribed before me this 12 day of August A.D. 1901 (signed) N B. Gordon, County Judge Chambers County, Texas.
David Barber describes a wound Joseph Addison received during the Civil War that plagued him for the rest of his life.
I think he was wounded in the head while fighting in Louisiana. The story goes that wound did not heal until the last scrap of "minnie ball" finally came out, and that was just before he died. -- David Barber
Joseph Addison died February 28, 1920 in Tivoli, Texas (Refugio County). Joseph Addison's daughter Augusta E. Barber filed an "Application for Mortuary Warrant" which states that Joseph died in her home in Tivoli, Texas. It also states that Joseph died on the 27th day of February (I previously indicated the 28th - can anyone confirm either date? A letter from his daughter Augusta E. Barber included with the pension records also indicates Joseph died on the 28th). The "Mortuary Warrant" lists the itemized costs of Joseph's funeral.
One coffin.....$50.00
Canvas .......1.90
Digging grave .......6.00
Doctors services ......14.00
Funeral expences (Minister etc.) ......10.00
....................................................
Total ......81.90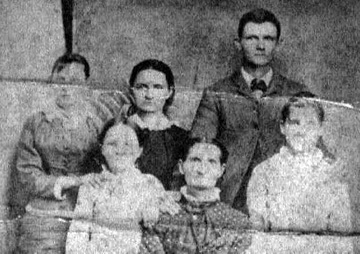 Emmeline Jackson Barber (wife of Addison) is seated in the middle surrounded by her children.