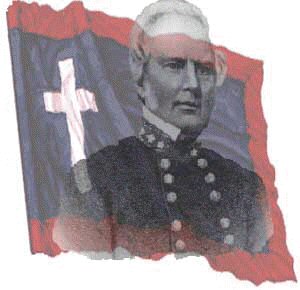 Pvt. Gilliam Bounds
3rd Battalion Mississippi State Troops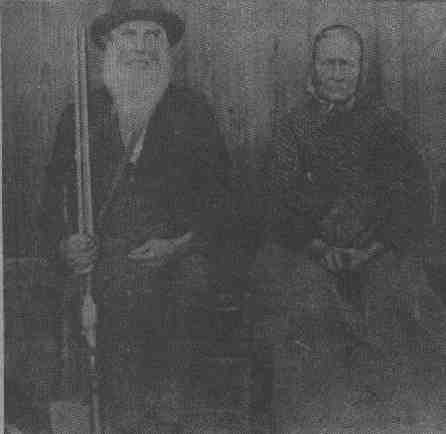 Gilliam Bounds and wife, Kizziah Nelson
(Seated outside their cabin and displaying their most precious material possessions. Gilliam is holding his shotgun and in left hand, a leash for his favorite coon dog. Kizziah is holding what appears to be the family Bible. They were devoted Christians.)
Gilliam Bounds, Pvt., 3rd Btn Miss. State Troops. Gilliam lived most of his life in Mississippi but did live for a period of time in St. Helen Parish, Louisiana which is just across the State border. He was born Jan. 22, 1822 and died April 6th 1912 at the age of ninety. During his life he was a farmer, trapper and hunter. He had the reputation of having the best coon dog in the county. During one unfortunate night, this coon dog became engaged in a battle with a very large coon over on the railroad tracks near the Bounds' home. While locked in ferocious combat, both dog and coon were struck and killed by a fast moving train. Gilliam was always sad when he told this story because he was afraid the hound dog died not knowing he was killed by a train instead to some oversized coon !
When his native State was invaded, Gilliam enlisted as a private in Company H, 3rd Battalion State Troops on August 6th 1862. He was recruited by Captain Griffin at Augusta, Mississippi for a period until discharged. The Battalion was disbanded by Lt. Gen. Pemberton, on about 17th July 1863, following the fall of Vicksburg. They were officially mustered out of service Sept. 22nd 1863 by order of Gen. J.E. Johnston.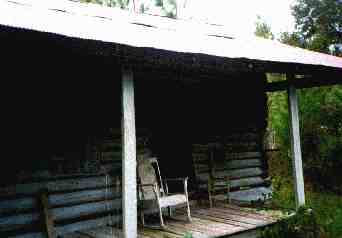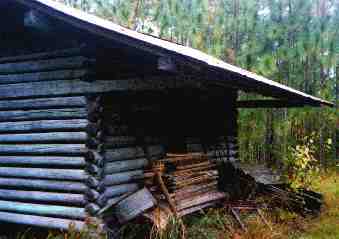 Gilliam Bounds' log cabin as it appears today.
Gilliam married Kizziah Nelson and to them were born 10 children (6 boys and 4 girls). They are buried in the Landrum Cemetery at Lumberton, Lamar County, Mississippi. A military headstone was installed in later years, combined with ceremonies conducted by Rev. W.B. Ainsworth of the United Methodist Church and the Nathan Bedford Forrest Chapter of the United Daughters of the Confederacy. They are the great grandparents of Sterling Price Camp member, Don W. Davis.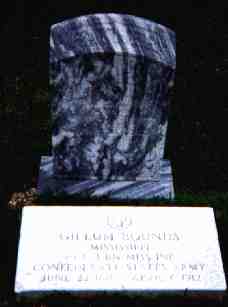 Gilliam Bounds' Grave, Landrum Cemetery, Lumberton, MS