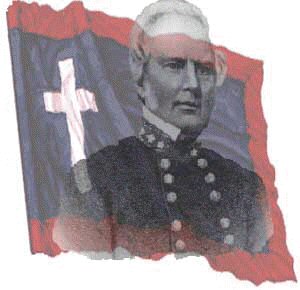 My Confederate Ancestors
2nd Lt. John Calvin Welch and Pvt. Joshua David Derryberry
by Steve Chase
2nd Lt. John Calvin Welch, Co F, 9th Mo. Infantry CSA
John Calvin Welch was born on November the 8th 1840 in what is now Dent county Missouri (for your info. part of Crawford and Shannon counties were subdivided to form Dent Co.) He was the Son of Thomas Welch and Eliza Reddick Welch who were originally from Tennessee and of Scottish decent. He was married to Martha Elinder Wofford on Dec. 20th 1866 and they head 7 children. He enlisted in 1861 with Freemans Company, Missouri state militia for six months, and was captured and taken to Alton Illinois where he was held prisoner until Sept. 1862, when he was exchanged. Then he enlisted as an Orderly Sgt. in Co. F 9th Mo.Infantry. After the Battle at Pleasant Hill La. in 1864 he was promoted to 2nd Lt. He and his fellow Confederates under the command of Gen.J. Shelby surrendered to forces under the command of Gen. E.R.S. Canby(Union) at Shreveport La. in June 1865 . After returning to Missouri and southwest Dent Co. he continued to farm and was once elected to the post of County collector. He died on September the 6th. 1914 at the age of 74.
Pvt. Joshua David Derryberry, Co. E, 8th Missouri Infantry CSA
Joshua David Derryberry was born on January the 7th 1830 in Maury County Tennessee and was a third generation descendant of the Maury county Tennessee Derryberrys of which the old estate home built by their Grandfather George still exists and is in private ownership in that county. He was married to Elizabeth Bain on January 08, 1846 and was a farmer like most at the time, moving to Missouri in the 1850s and settling eventually in Oregon county Missouri.
On the 6th of August 1861 a son, Thomas was born to he and Elizabeth, and one year and a day to the day of his sons birth anxious to serve his country, he enlisted in Mitchell's Regiment, Captain William Skiles company, Co. E 8th Missouri Confederate Infantry, of Missouri Volunteers for a 3 year term of service at the age of 32.
It is unclear as to what actions he saw specifically as a private during that term of service but an entry dated February 15th 1864 on his service card indicates some action or activity around Sumnter, Arkansas, and the service cards at that time frame indicate his term of service as "The War" instead of 3 years as previously stated on the other service cards.
The final information available, are the service cards containing information relating to his death as a result of Combat and the fight at Pleasant Hill Louisiana on April 9th 1864, stating only that he was "Killed" and appeared on a list of casualties in Parsons Division of Missouri Infantry.
I have visited the battle site and there is no official military cemetery there, only the old town cemetery which the citizens used and the Confederates (who won the battle) used to bury the dead both Blue and Gray in a mass grave, noting the town itself no longer exists at the site where it once stood either, as it was moved approximately 3 miles to its present location to be closer to the railroads after the war. In an ironic twist, my other Confederate ancestor Grandfather John Calvin Welch, also fought there that day for the 9th Mo. Confederates, and I wonder whether or not they were friends or knew each other prior to the battle, and what they would have thought if they knew that someday their descendants would get together and establish a family lineage that still exists to this day.