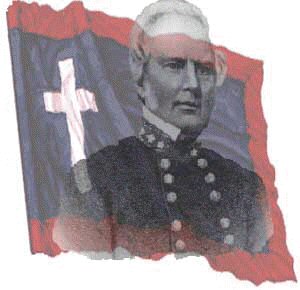 General Joseph E. Johnston
Ancestor of James M. England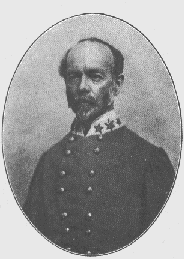 General Joseph E. Johnston was born in Cherry Grove, Va., February 3, 1807, and died in Washington City, D. C., March 21, 1891, in the eighty-fifth year of his age. He was graduated at the United States Military Academy at West Point, in the same class with General Lee, in 1829, and was commissioned second lieutenant of the artillery. His service in military and topographical duty was continuous in that rank until 1836, when he was promoted to first lieutenancy of artillery and made aid-de-camp to General Winfield Scott in the Seminole war. A civil engineer in 1837-38, and in July, 1838, he was appointed first lieutenant in the corps of topographical engineers and breveted captain for gallantry in the Seminole war.
In that war a ball struck him above the forehead and ranged backward, grazing the skull the entire distance, the only injury he then sustained, though his uniform was perforated with thirty bullets. He continued in the service of the United States as soldier and topographical engineer; and in the war with Mexico participated in the siege of Vera Cruz, and the battles of Cerro Gordo, Contreras, Cherubusco, Molino del Rey, Chapultepec, and the storming of the City of Mexico; and was breveted major, lieutenant-colonel and colonel April 12, 1847, for gallant and meritorious conduct on reconnoitering duty at Cerro Gordo. He was severely wounded at Cerro Gordo and Chapultepec, where, September 13, 1847, he led a detachment of the storming forces, and General Scott reported that he was the first to plant regimental colors on the ramparts of the fortress. After the Mexican war he was returned to the rank of captain of topographical engineer, and served as chief of that body in the Department of Texas in 1852 and 1853, and acted as inspector-general on the expedition to Utah in 1858. June 30, 1860, he was commissioned quartermaster-general of the United States army, but resigned that post on the 22d of April, 1861.
He was commissioned major-general of volunteers in the army of Virginia, and, with General Robert E. Lee, organized the volunteers of that State--and being summoned to Montgomery, the Confederate capital, he was appointed one of the four brigadier-generals there commissioned, and was assigned to the command of Harper's Ferry. General Robert Patterson, commanding the Federal forces, was then advancing from the north of the Potomac and General Johnston withdrew his command, the Army of the Shenandoah, from the cul-de-sac at Harper's Ferry and took position at Winchester. When General Beauregard was attacked at Manassas by the Federal army under General McDowell, July 18, 1861, General Johnston, covering his movements with Stuart's cavalry, left Patterson in the Valley and rapidly marched to the assistance of Beauregard. On reaching the field he left Beauregard, whom he ranked, in tactical command of the field, but assumed responsibility in charge of the battle then about to be fought. He then commanded the consolidated forces, designated as the Army of the Potomac, and held the position at Manassas Junction till the spring of 1862, when finding General McClellan about to advance, he withdrew to the defensive line of the Rappahannock. He fought the battle of Seven Pines, May 31, 1862, in which he was wounded and incapacitated for duty until the following autumn.
APPOINTED A BRIGADIER-GENERAL.
On August 31, 1861, General Johnston was appointed one of the five full generals authorized by an act of the Confederate Congress, commissioned in the following order: Samuel Cooper, Albert Sidney Johnson, Robert E. Lee, Joseph E. Johnston and G. T. Beauregard. In March, 1863, he was assigned to the command of the Southwest, including the forces of Generals Bragg, Kirby Smith and Pemberton. In May, 1863, General Grant crossed the Mississippi river to attack Vicksburg in the rear, and General Johnston was ordered to take command of all the Confederate forces in Mississippi. Straightway he endeavored to withdraw Pemberton from Vicksburg and reinforce him from Bragg's army, but his plan miscarried by reason of Pemberton's failure to obey his orders, and Vicksburg capitulated to Grant. In December, 1863, he was transferred to the command of the Army of Tennessee, with headquarters at Dalton, Ga.
During the winter of 1863-'64 he energetically engaged in organizing and disciplining this force, which had been beaten and broken at the battle of Missionary Ridge November, 1863. Shortly thereafter, by May, 1864, he had collected and mobilized forty-three thousand men of all arms, and was subsequently reinforced by General Polk's and other forces, which increased his army to about sixty thousand. May 14, 1864, General Sherman advanced on General Johnston's position at Dalton, Ga., with the combined forces of three Federal armies--the Cumberland, under General George H. Thomas; Tennessee, under General James B. McPherson, and the Ohio, under General John Schofield--aggregating ninety-nine thousand strong, with two hundred and fifty-four guns. And thus was inaugurated one of the most memorable campaigns of the war--one that lasted more than two months with daily fighting of some character.
Sherman did not attack Johnston's position at Dalton in force, but making slight demonstrations at Mill Creek Gap, flanked it by sending McPherson's corps through Snake Gap with a view of striking his rear at Resacca. But there he found a portion of Johnston's army in an entrenched position, and attacking which with a portion of his command, was repulsed with severe loss. Johnston retired across the Oostenaula successfully to Kingston, Adairsville, Cassville, and thence across the Etowah river to Alatoona Pass. Being flanked by Sherman he retired to a position near New Hope Church, where he was again fiercely attacked by a portion of Sherman's army, which was repulsed. At Dallas, near New Hope Church, Sherman again assailed Johnston with the same result. Being flanked in this position, Johnston retired and took a strong position on Kennesaw Mountain, a portion of which line Sherman assaulted with force on June 27th, but was repulsed with greater loss than in any battle during the campaign. Thus failing to dislodge Johnston by direct attack, Sherman again flanked him, and Johnston retired and took a position on the northwest bank of the Chatahouchie river, but subsequently abandoned that line and retired south of the river and took a position in front of Atlanta, where, during his preparations to attack Sherman as he crossed the Chatahouchie river, by order from Richmond, he was superseded by General J. B. Hood.
Commander of the "Army of Tennessee"
In February, 1865, General Johnston was ordered by General Lee (then the commander-in-chief of all the armies of the Confederate States) to take command of the "Army of Tennessee" and all the troops in South Carolina, Georgia and Florida, "to concentrate all available forces and drive Sherman back." The available forces were five thousand men of the Army of the Tennessee, near Charlotte, N. C., and eleven thousand scattered from Charleston throughout South Carolina. Sherman had sixty thousand men. General Johnston urged General Lee, through the Richmond authorities, to withdraw from Richmond and unite with him and beat Sherman before Grant could join him, but Lee replied that it was impossible for him to leave Virginia. Collecting such troops as could be gotten together, Johnston threw himself before Sherman, and on the 19th and 21st of March attacked the head of his column at Bentonville and captured four pieces of artillery and nine hundred prisoners. Johnston then retired before Sherman to Raleigh, thence toward Greensboro.
In the meantime Richmond had been evacuated, and on April 9th Lee surrendered the Army of Northern Virginia to Grant. Johnston thereupon assumed the responsibility of advising Mr. Davis, whom he found at Greensboro, that the war having been decided against them it was their duty to end it. Mr. Davis agreed that he should make terms with Sherman, and on April 18, 1865, he entered into a military convention by which it was stipulated that the Confederate armies should be disbanded and conducted to their State capitals to deposit their arms and public property in their State arsenals, the soldiers to execute an agreement to abstain from acts of war and to abide the action of the State and National authorities; that the several State governments should be recognized by the executive of the United States upon their officers and legislatures taking the oath prescribed by the Constitution of the United States; the people and inhabitants to be guaranteed all their rights under the State and Federal Constitutions; general amnesty for all acts in the late war; war to cease and peace to be restored. This agreement was rejected by the authorities at Washington, and on April 28th Generals Johnston and Sherman signed another, surrendering the Confederate army on the terms of the agreement between Grant and Lee. How touching were his parting words to his soldiers in May, 1865:
"COMRADES: You will return to your homes with the admiration of our people, won by the courage and noble devotion you have displayed in this long war. I now part with you with deep regret, and bid you farewell with feelings of cordial friendship and with earnest wishes that you may have hereafter all the prosperity and happiness to be found in the world."
AS A CITIZEN.
After the war General Johnston was president of a railroad in Arkansas, president of the National Express Company in Virginia, agent for the London, Liverpool and Globe Insurance Company and for the New York Life Insurance Company at Savannah, Ga. In 1877 he was elected to Congress from the Richmond district in Virginia. He was afterwards appointed by President Cleveland commissioner of railroads of the United States, and he held that office till the close of Cleveland's administration. The request of his distinguished adversary, General Sherman, that he be reappointed by the incoming administration to the office of railroad commissioner of the United States, was to him a testimonial far higher and more glorious than the office itself. These distinguished men, who were directly opposed to each other in the field of war and in one of the most remarkable campaigns in military annals, though acquainted before the war, entertained for each other after the war an exalted mutual regard and the most cordial personal friendship. General Johnston attended and officiated at the funeral obsequies of General Sherman, his great antagonist, only a few weeks before he was summoned to follow him. He forgot not the soldiers he led.
In September, 1890, after twenty-five years had passed and true American citizenship had taken charge of the destinies of this Republic, and when, after the white heat of the conflict, the North and the South had each recognized the need of the other in the new national life, and the people of the States had entered upon the grander destiny opening up before them, with loving words he writes:
"Your very cordial and friendly invitation to me to attend the reunion of Confederate soldiers at Memphis on the 2d proximo is infinitely gratifying, although I shall be unable to avail myself of it.
The most important personal business I have had compels me to remain at home at the time indicated and deprives me of a very great pleasure--that of meeting in Tennessee many of my military associates not seen by me for some five-and twenty years--meetings that give me as much pleasure as I am now capable of feeling. Begging you to assure your association of the regret this deprivation causes me, and thanking you cordially for the very agreeable terms of your invitation, I am, yours faithfully."
Such is the brief outline of the career of this noted man, whose character and deeds we commemorate to-day. For four-score years and more he was making that record which he leaves to the country. During much of this period he was of the men of this country one of the most notable. He lived and labored among generations of men not without great leadership. Fitted for his chosen profession by a finished education, his after life gave ample proof of the talents with which he was endowed and the great capacity for affairs which marked his career. He was not only a man of mental force, but likewise had those other characteristics which fitted him for the field in which his lot was cast. The impressions of his youth and the trend of his political thought were such as we would naturally expect from one of his noble manhood, and his associations with the illustrious thinkers and statesmen with whom he lived, who wielded for generations the affairs of this Republic, and whose manly virtues shine conspicuous in the annals of these States. That under such tutelage, circumstances and surroundings from his earliest youth he should have an exalted idea of the sovereignty of his State and a genuine love for her welfare, as did Lee and other gifted patriots, we might well expect. While he held these views and entertained such convictions as to his duty, he held in no less honor those of a different political faith. At the same time he gave up his conscience to the keeping of no man, however great, or however exalted.
FAITHFUL TO HIS CONVICTIONS.
Whatever may have been the deficiencies of his resources naturally incident to his surroundings, the laborious energy and industry with which he mastered every detail of the work in hand, ever characterized him, and it is to his lasting honor that he was ever faithful to his convictions. The performance of his duty, in whatever state of life he was called upon' to labor, was the first and foremost impelling power of his nature. Educated, intellectual, with a high sense of duty, endowed with indomitable will, full of devotion to his State, and thoroughly indoctrinated with a love of self-government and home rule, the historian might well look for a prominent place for such a man in the annals of our country's past. Exalted courage, cautious energy, skilful attention to details, a careful preparation for the work in hand, and masterly conception characterized our distinguished leader both in the war with Mexico and as a Confederate leader. Those vices which here and there have marred the characters and stained the lives of many gifted ones in private life, war and politics, left no mark on his illustrious career. It was not to be expected that a man thus reared and trained and educated, and with such convictions of right, should have drawn his sword against his native State. How he performed his duties in the great struggle history will tell.
The South has reason to honor her illustrious dead. Go ask a soldier who marched under his leadership if you wish to hear the story of simple loyalty. He remembers how sweet his sleep on the tented field, where this master-spirit was at the head of the army conscious that no surprise awaited him, and that whether in advance or retreat his watchful eye surveyed the lines, and that no hostile force held him in his grasp. Simple in his characteristics, watchful in his manner, careful in every detail, courageous in every act, wide-awake in every field, loving with a big heart the soldiery that toiled and marched and fought and stood ready to give up life itself at his command, no wonder to-day that the South, whatever may have been its successes or reverses, with her abiding confidence in his integrity and his loyalty to truth, mourns his loss. We are not alarmed at the place history shall assign him. Safely we can commit to the future the estimate of his modest worth, fidelity to trust, integrity of character, intellectual power, military skill, unrivalled mastery in caring for, preserving and moving a command and the many virtues that adorned his glorious manhood. And though he may have no splendid mausoleum to mark his last resting place, the memory of his deeds, his virtues and his fidelity to trust will live in the affections of his people, in the traditions of the country, and in the history of her people as long as men shall honor virtue and revere the lives and deeds of the eminent dead. Masterly tactician, matchless strategist, heroic soldier, exalted citizen, loved by his own soldiery, to whom he was a "shield," honored by his brave and manly adversaries, he has joined Stonewall Jackson, who served under him, and Lee, whom he esteemed the foremost man of the age, and other noble ones, leaving us this inheritance. Who shall say that the youth of this land in the generations that follow shall not emulate this splendid example of Christian manhood?
HIS NAME WILL NOT DIE.
Above article from: Southern Historical Society Papers.
Vol. XVIII. Richmond, Va., January-December. 1890.
Memorial Services In Memphis Tenn., March 31, 1891.
The Committee on Resolutions to the Memory of General Johnston, reported as follows:
Resolved,
1.That in commemoration of the decease of General Joseph E. Johnston this convention desires to place on record an expression of its appreciation of the exalted character of this illustrious Confederate chieftain.
2. That as a leader of its armies in the campaigns, which in Virginia, Tennessee, and Georgia have, by their achievements, made a name and fame as enduring as time, the credit is largely due to the skill and efficiency of his leadership. His retreat from Dalton to Atlanta marks him as the peer of the great historic captains, whose qualities have shone the brightest under difficulties that seemed the greatest.
3. That in the confession of that renowned General, before whose outnumbering forces he conducted his retreat, that is it was a dark day for the Federal arms when they confronted this Confederate leader on the Chattahoochie, we have the highest tribute to his soldierly capacity and skill.
4. That the peculiar fitness of such a record by this convention is emphasized by the fact that nearly every member of it has at some time obeyed his orders, and that through it we desire to transmit to those who may come after us our appreciation of his martial and civic virtues.
5. That these resolutions be published in our papers, and a copy of them sent as an expression of our sympathy to his bereaved household.