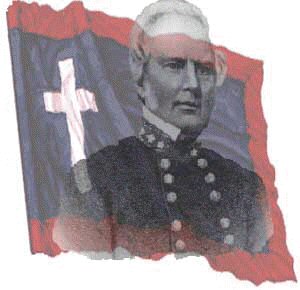 Francis Gardere Henderson
Great Great Grandfather of Terry Henderson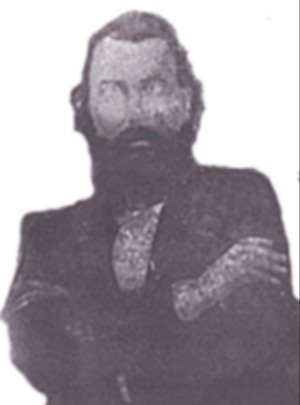 Francis Gardere Henderson was born around 1826 in Baton Rouge, LA. His father was Stephen Henderson and mother, Mary Hardy Reid. He was the oldest of at least 8 children, two others who fought for the south in Louisiana. During his youth in Baton Rouge, he was a member of the Young Whig movement as his father, Stephen was very involved at the state level. His father was a plantation owner, editor of the "Baton Rouge Gazette" and very involved in the politics of the town, including "Town Magistrate" (early name for mayor) from 1836-1838. Francis Gardere Henderson grew up in a very "involved" family. When the call came to reinforce General Zachary Taylor in Mexico, Francis G. was among the first 90 from Baton Rouge to go to his rescue as a 90 day volunteer. Upon reaching Taylor's camp in Mexico, the Mexicans withdrew and as a result, he saw no action.
He was elected Lieutenant by his peers. After less than 90 days he returned with his group to Baton Rouge where he became editor of the Baton Rouge Gazette and married Lucretia Calvit Cheatham. They had two sons in Baton Rouge before Francis G. disappears. His family is found in the 1850 census living with his mother-in-law but he isn't with them. I'm not sure where he was. I begin to find records in St. Louis and St. Charles County in the mid 1850s. He had attended school at St. Mary's just south of St. Genevieve and probably had several friends from St. Louis. According to one article, he first arrived to teach in the area. His family joins him in Missouri in the mid-1850s and 4 more children are born. They live in St. Charles County, by one account in a town called Millville which today is Forestal in Western St. Charles county. He is living in the city of St. Charles in the 1860 census. He did not get along with the German population and was a leader of the anti-immigrant "Know-Nothing" party in St. Charles called the "Kaleidoscope."
Family tradition has it, and I've been looking in Newspaper accounts, that his wife and possibly two children took passage to Baton Rouge on a steamboat in the mid 1860s. About that time Cairo was being occupied and ships were being checked for contraband. In any case, family history has it that her steamship exploded and they were killed. Supposedly Francis G. Henderson was among the first to report when Claiborn Fox Jackson called for volunteers to serve the state for the Confederacy. He was maniacal in his desire to serve the south and get back at the U.S. For the death of his wife. He was involved in burning bridges and culverts on the North Missouri Railroad and supposedly was captured and sent to prison for a short time at the Arsenal in St. Louis. For some reason he was released or escaped and was soon back at creating havoc in East Central Missouri.
It seems that his oldest son, Thomas Beaumont Henderson, aged 14 in 1862 was with him most of the time. The rest of his children seemed to move around from one southern sympathizer to another when they couldn't be with him. He lost most of his property in 1860-61 for failure to pay taxes in St. Charles County. In December 1861, he had joined up with Caleb Dorsey and was recruiting troops for him when Prentiss moved to break that group up. I've enclosed the newspaper article on that also as well as the History of Boone County account. He was one of the leaders of the group that rode into Troy, Mo in March 1862 and looted it "a little." This later led to confrontations at Bob's Creek and Big Creek where his recruit bands were broken up. Moving down to Marthasville after scattering his recruits, he stayed with the family of Dr. Briscoe, a friend of the family's and continued to recover from some wounds he had received. In late March 1862 he received word that a patrol was approaching.
Family tradition says that when the patrol arrived, he sent his son, Beaumont out to get the horses in a grove of trees and sent the other kids to hide in a nearby creek. As the patrol approached the people in the house fired on them then began moving out the back of the house. As the patrol returned fire, they all escaped except for Francis G. Henderson who the kid's watched get loaded into the back of a wagon and taken away. Newspaper accounts state that he was taken back to Warrenton, MO where he died a day or two later from a wound in the back that came out his chest. His daughter, Zelia, who died in 1952 always claimed that he was recovering but was poisoned by "some Yankee" and died.