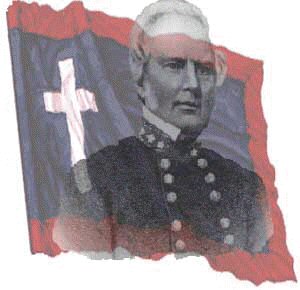 John Drumghoule Williams
A Texas Partisan Ranger
8 September 1840 - 17 October 1917
By Chuck Workman, great grandson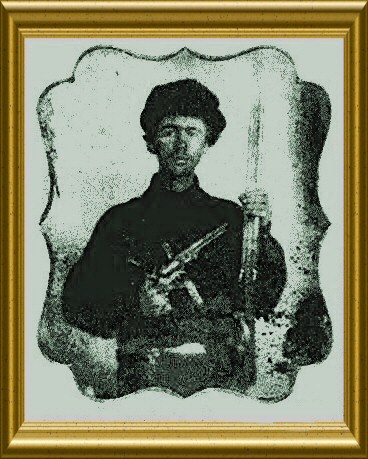 Of his nine children that accompanied Lemuel Hardin Williams (My GGGrandfather) from Kentucky to Texas in 1857, John Drumghoule was the eldest. Born in 1840, he passed his 17th birthday during the first week of the trip, but it is doubtful that there was much of a celebration as there might have been. He had helped his father in the Albany store and was expected to do a man's work on the journey. His younger brother, Francis Irwin, even at the age of twelve, probably helped drive the wagons and kept his eye on their younger siblings.
When his father purchased land for a house , John and Francis helped clear enough of the forested property for the structure. They also helped their father clear the land for the new Baptist church, too. (LH Williams donated the property) When Lemuel Williams returned to Kentucky for provisions to stock his new store, John was left in charge of the family in his father's absence. It was during this time that he developed a sense of responsibility which would serve him throughout his life. While continuing his education, he worked for his father in the Williams and McBath store in Paris. As the store profited, so did the owners and their sons. With a regular income now, John married Elizabeth Provine on October 3, 1860, less than a month after his 20th birthday. Five weeks later, Abraham Lincoln was elected president of the United States. Both Lemuel and John agreed with Governor Sam Houston that Texas must stay in the union and try to work out their differences with the North. But only Lemuel Hardin Williams and six other representatives to the Assembly on Secession in Austin voted no to leaving the Union. On, in January 1861 the State of Texas seceded from the United States.
Although Lemuel Williams had strong feelings against secession, both he and John wasted no time in preparing for the defense of Texas. John joined the Lamar Rifles, Beat No. 6, Lamar City, which his father had helped form. Since Texas required the Militia to be armed, John quickly armed himself with double barreled muzzle loading shotgun, a Colt .36 Caliber Percussion revolver, and a long blade Bowie knife. In these early days of the "War for Southern Independence" there was very little fighting on Texas soil. Occasionally there would be a few skirmishes with Union raiders just across the Red River in Indian territory, and John probably participated in some of these. This was relatively easy duty, and the local boys were at home more than they were in a formal camp. On November 11, 1861 Lizzie presented John with their first child, a boy that they named William Lemuel Williams.
Then in August 1861, the Lamar Rifles became part of the 9th Brigade of the Texas Militia commanded by Col. Samuel Bell Maxey(1). This unit, in early 1862, joined General Albert Sidney Johnston's forces in Kentucky. At the same time, Colonel Maxey was promoted to Brigadier General(2). John Drumghoule Williams did not accompany the 9th Texas Militia to Kentucky, but was transferred to the 1st Texas Partisan Rangers, commanded by Col. Robert Taylor (Later incorporated into the 22nd Texas Cavalry). In early 1863 he was again transferred to the Texas Frontier Regiment att San Saba, Texas, being assigned to Wood's(3) company "C", Cavalry, as a private. (In his 1914 pension application, JD Williams incorrectly lists Lt. Wood as "Lt. Good
In March 1863 at Ft. San Saba, an event occurred which could have affected much of the lineage of this family. For some unknown reason, John D. Williams was reported absent without leave! This occurred during war time, and under Confederate military justice was a crime punishable by DEATH! We can only speculate as to what had really happened, but it is possible that he returned to Paris (With or without permission) to see Lizzie, for 9 months later she gave birth to a daughter, Mary Jemima. In any event, the situation was cleared up and Lt. Wood's report of the matter to Capt. W. G. O'Brian, who then forwarded it to the Regimental commander, Col. J.E. McCord.(4) McCord approved the report, thus saving Private Williams from a firing squad. Had this occurred several branches of the Williams family tree wouldn't exist today!
In December of 1863, Brig. General Maxey was recommended for promotion to Major General(5) by his Mexican War friend, Lt. General Edmund Kirby Smith, and assigned as Confederate Commander in Indian Territory and Supt. of Indian Affairs. This command included northern Texas and the entire Oklahoma territory, headquartered at Fort Towson on the Red River. Among the units now under General Maxey's command was the Texas Frontier Regiment, which included John Drumghoule Williams. Possibly due to the General's friendship with his father, John was transferred to the General's staff as 1st. Lt. John Drumghoule Williams in Maxey's personal escort. During this time the 22nd Texas Cavalry (then dismounted) participated in the battle of Mansfield, LA, which was a decided Confederate victory. Returning with the 22nd Cavalry which continued to protect Texas from Yankee invasion. He remained with General Maxey for the duration of the War, surrendering and being paroled on 2 June 1865
Following the end of hostilities in 1865, John returned to his job of clerk in his father's store. His family now growing and needing more income than his father could afford to pay during the reconstruction years, John turned to other busines' He was engaged for a number of years in farming, cotton trading, and was for a while associated with his brother, Francis I. Williams in the hardware and implement business.
My Great-grandfather was active in the United Confederate Veterans and the Paris Masonic Lodge. On 8 July 1904 1st Lt. John D. Williams was awarded the UDC Cross of Honor. At the age of 73 he applied for and was granted a small pension from the State of Texas for his service in the Confederate Army.
During his last years, my Great-Grandfather lived above his son's drug store in Paris. He was visiting his daughter's home in Grant, OK in the Fall of 1917 when he took ill and died there on 27 October at the age of 77. He was buried with Confederate honors in Evergreen Cemetery, Paris, Lamar Co. Texas.
I'm proud to be his Great-grandson.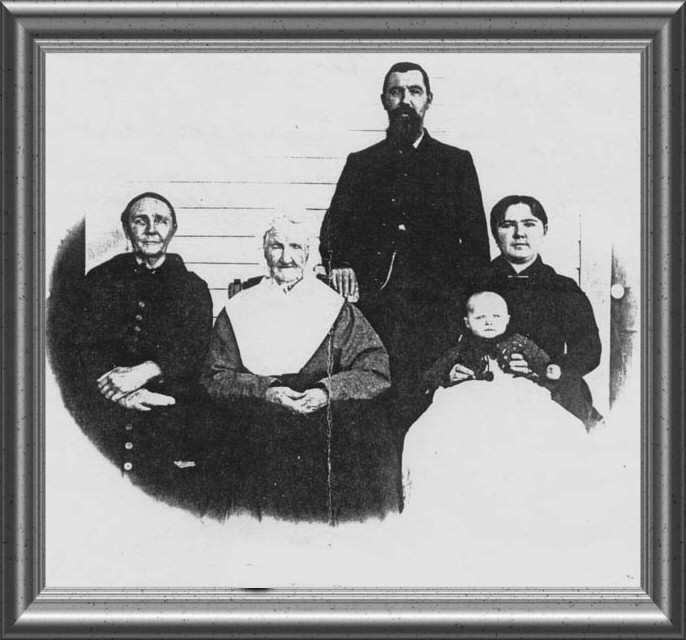 L to R: Emily Irwin Williams, Jemima Stockton Irwin,
John Drumghoule Williams, Mary Jemima Williams Pearcy,
holding Thomas Drumghoule Pearcy about 1886
---
(1) Samuel Bell Maxey (b. KY, 1825, d. AR, 1895) He graduated from the U.S. Military Institute at West Point, class of 1846, and served in the Mexican War. Resigining in 1849, he studied law and joined his father, Rice Maxey in practice. They emigrated to Paris,Texas in 1857 where they established law offices.
(2) Sam Bell Maxey and the Confederate Indians - John C. Waugh, 1998,The McWhitney Foundation Press. P.14
(3) RECORD OF SERVICE IN CONFEDERATE SERVICE - 1861-65, John D. Williams.. The Texas State Library, Dept. of Military Records, Austin, TX. -
(4) Ibid.
(5) Generals in Gray, Maxey's promotion was never confirmed by the Confederate Senate or President Jefferson Davis.
Background sound, "Yellow Rose of Texas" is from Dean Fowler of REWEP Associates.