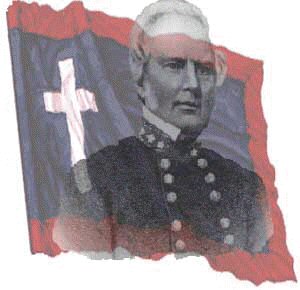 Pvt. Elias James
Co E, 4th Alabama "Roddey's" Cavalry
by Scott K. Williams, GG Grandson
by Scott K. Williams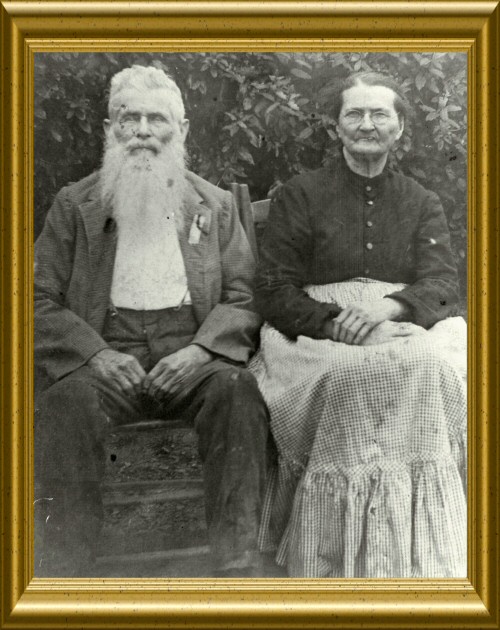 Elias James, born Feb. 4, 1836, enlisted in Co E, 4th Alabama "Roddey's" Cavalry, CSA. His younger brother, Enoch, also served in this same unit. Elias was severely wounded on Dec 24th 1864, in a skirmish North of Decatur, Alabama. The day they brought him home, it was very cold, and the blood was frozen in his hair. A piece of his skull was shot out and covered with a metal plate by a surgeon. J. A. Taylor, of the same unit, was one of the men who carried Elias home from the battlefield.
"...the yankys is as thick as black birds up hear."
--Sgt. Wm C. Hester, Co E, 4th AL Cavalry
The regiment, often operating in widely separated detachments, was nearly all that was keeping the Yankees from crossing South of the Tennessee River in 1864. They were badly outnumbered. Elias' wife Cynthia James, (nee Richardson) d/o John Richardson and Nancy Hester, was the first cousin to Sgt. William Carroll Hester, s/o Roling Hester and Lucinda Richardson, also of the same unit: Co. E, 4th Alabama Cavalry. Sgt. Hester wrote in April 1864, a letter (spelling left-unmodified with only slight editing for comprehension):
Dear beloved wife :
I take my pen in hand to let you know how I am getting along I am well as present and a doing very well. I hope when these few lines come to hand once more we are at Hill Burrogh on the Rail Road about tenn mils from Decatur they say there are seven thousand yankys in Decatur. we saddle up this morning to go hav a fight the yankys.... I want to know what all is a going on in the contry. I hant received but one letter sinc I was at home I want to see you very bad I dont know when I will get to come home to see you the yankys is as thick as black birds up hear. my prays is for peace once more in our land so we can liv togher as we have once before. I want you to do the same and pray to God to pardon our sins and your Dear Husband will do the same writ soon as no more only I remain your tru Husband untill death -- Wm. C HESTER the 4th Ala. Cav Co. E
Elias James married Cynthia McGary Richardson, b. 4 Mar 1847, d. 18 May 1915. They settled at Pogo, just West of Pleasant Site, where they resided in a log cabin that had a "beautiful cold water spring" and a "milk house where milk was kept cool in the running water". This is at the base of the Freedom Hills, overlooking the beautiful valley. The buildings are now gone but the James cemetery is still there, hidden in the woods above where the cabin once stood.
Cynthia was the daughter of John Richardson (b. 14 Jan 1796 GA, d. 12 Jan 1876) and Nancy Hester, (b. Oct 11 1808, d. Jan 26 1853). At least two of Cynthia's brothers served in the Confederate Army and fought at the Battle of Shiloh. Cynthia's maternal grandparents were William H. "Buck" Hester and Amy Malone. Amy was the daughter of John Malone and Anne Blackwell of Granville Co., NC. "Buck" and Amy Hester came to Franklin County in 1818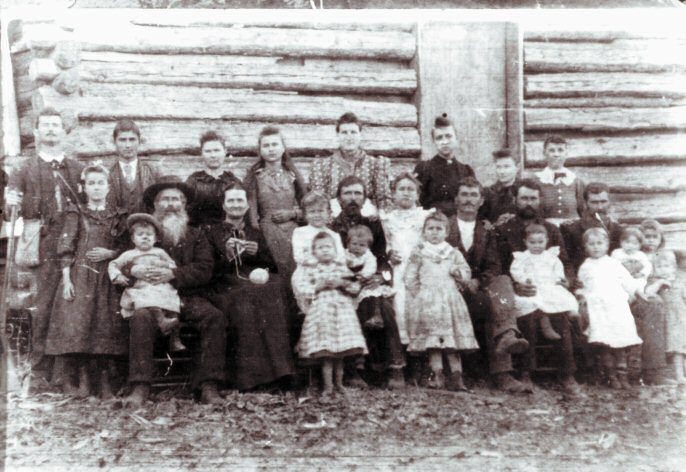 There was no mansion with large columns and slaves waiting in the wings for Elias James family. They were poor farmers and their home was a log cabin.
Elias and Cynthia James had 13 children: William Amos (b. Oct 27, 1860, d. Sept. 24, 1923, buried in James Cemetery, Pogo, AL), married 19 Sept. 1883 to Marthey Melisey Culligan, they had eleven children; Robert David (b. June 16, 1862) married Annie ___, they had two children; John Andrew (b. July 27, 1864, d. Sept. 17, 1922, buried in Crooked Oak Cemetery, AL) married 29 Dec 1887 to Sarah Louvenia Grissom, they had twelve children; Thomas Enoch (b. Aug. 17, 1866, d. June 19, 1954, buried in Belmont City Cemetery, Mississippi) married 24 Feb 1892 to Jennie Burton James (daughter of Elias's brother, Enoch ), they had ten children; Daniel Jonson (b. Mar 16, 1868, died 1897 or 1898, buried at Winchester Cemetery, Pleasant Site.), Alfred Clark (b. Jan 8, 1870, d. Feb 4, 1936, buried at Ridge Cemetery, Miss.) married 5 Aug 1891 to Cammie Rachaeline George, they had ten children; Elias Walter (b. Jan 1, 1872, died May 18, 1921, buried at City Cemetery, Florence, AL) married Lula Thomas, they had ten children; Nancy Catherine "Kate" (b. Jan 9, 1875, d. Dec 28 1938, buried at New Bethel Cem., Colbert Co., AL) married 23 Aug 1894 to Cullin C. "Cub" Grissom, they had atleast five children and resided on Caine Creek in Tuscumbia, Colbert County; Mary Etta (b. Feb 26, 1876, d. June 5 1908) married Jim M. George, they had six children; Joe Gardner (b. May 23 1878, d. Nov 16, 1902, buried at Winchester Cem, Pleasant Site, AL), Neoma Samantha "Dobe" ( b. Mar 25, 1880, d. May 25 1933) married David Lee George, they had three children; Modena Alice (b. Jan 25, 1883, d. 24 Jun 1969, buried at Belmont City Cem., Mississippi.) married James T. Vaughn, they had four children; and Jim A. (b. May 28, 1885, d. Aug 6, 1886). Jim A. (b. 28 May 1885, d. 6 Aug 1886, buried probably James Cemetery, Pogo, AL)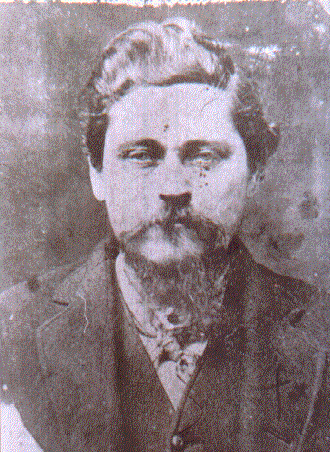 Enoch James: This is the only surviving photo of Enoch James (who enlisted in 1862 at age 16, serving in the the 4th Alabama Cavalry with his older brother, Elias.) Enoch married Adeline Spruel and had at least one daughter, Jinnie (or Ginnie) Burton James.
Submitted by Scott K. Williams, gg grandson of Elias James.