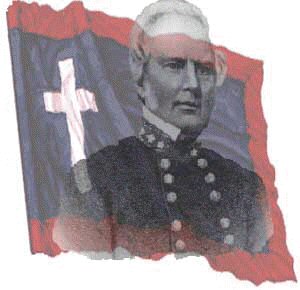 Germanic Surnames in Gray
One of the most overlooked group of soldiers that served in the Confederate Army are those individuals having Germanic surnames. While much attention is made to the large numbers of Germans that served in the Union Army, little is publicized about their southern counterpart or about the descendants of early Germanic immigrants that made it to this country as early as 1714, when the first German colony was established in Orange Co., Virginia.
Broadfoot Publishers has recently released on CD ROM a compilation known as the "Roster of Confederate Soldiers 1861-1865", containing records from the National Archives. Included in the 1.5 million entries are the soldier's names, rank, and unit/regiment. This is a survey about the Confederate soldiers bearing Germanic surnames (originating from the regions now known as Germany, Switzerland, Austria, and adjacent localities). These nations were originally composed of various German speaking kingdoms/duchies, such as: Bavaria, Baden, Bayern, Brandeburg, Hessen, Holstein, Mecklenburg, Munster, Moravia, Nassau, Palatinate, Pomerania, Prussia, Saxony, Silesia, Wuertemberg, and other states of the "Confederacy of the Rhine". Also included are those Germanic names that originated from the Swiss Confederation (Switzerland) and the Archduchy of Austria.
It should be noted that while many of those numbered in the listings were direct immigrants (large numbers settled in Texas, Louisiana, Missouri, South Carolina and Virginia prior to 1860), the majority were merely the descendants of Germanic immigrants and were several generation "American". Frequently these families intermarried with others of different ethnicity (Scots-Irish, English, Welsh, ect.) and so they had varying degrees of German blood.
How the name appear in the roster listing ?
For example, a Private (no rank listed):
Wannenmacher, Wilhelm MS Cav. Jeff Davis Legion Co.A
For an Officer (rank given):
Bachman, William K. SC Arty. Bachman's Co. (German Lt.Arty.) Capt.
Noted Missouri C.S Soldiers:
St. Louis German American, Pvt. Robert W. Busch, fighting for the Confederate Missouri Brigade in the trenches of Vicksburg, Mississippi took revenge on the St. Louis German Unionist of the 8th Missouri U.S. Infantry for their part in the action at Camp Jackson (May 10 1861). Leaping from the safety of the Confederate trenches, Pvt. Busch, took the 8th Mo. Infantry's battle flag and yelled, "Come get your flag ! The Camp Jackson boys are here. Don't you want to take us to the arsenal again ! It's our time now!" (May 22, 1863.) Despite the large numbers of Germans in the Missouri Union forces, there remained many, like Pvt. Busch, in the Confederate ranks.
Former St. Louis Mayor, John Wimer, an anti-slavery "Emancipationist Democrat", was sent to the Gratiot Street prison for his outspoken critical views against the federal military regime in the city. Wimer was twice elected Mayor of St. Louis, former city alderman, constable, sheriff, county judge, Postmaster of St. Louis, Superintendent of waterworks, President of Pacific Railroad, and President Commercial Insurance Company. Originally a blacksmith in the city, he became one of the most popular Mayors the city had ever had. After escaping from the Gratiot Street Military Prison, he journeyed South and joined the Confederate Missouri Cavalry where he served with the rank of Colonel. At the Battle of Hartsville, during Gen. Marmaduke's 1863 Missouri raid, Col. Wimer was killed on January 11th. During this same battle, his St. Louis friend, Col. Emmett McDonald was also killed. Both bodies were returned to St. Louis were they could be given Christian burial by their families. During the wake, the Yankee Provost Marshal (Franklin Dick) burst in among the grieving families, siezed the bodies and had them buried in a unmarked grave in a potter's field. It was not until after the war, when the families discovered their whereabouts and had them reburied at Bellefontaine cemetery.
William "Dad" Bremner (or Brenner, see note) formerly of Carondelet (St. Louis) was the only Confederate of a large family. A U.S. flag was given to him by the Sons of Veterans [Union veterans] of Evansville, Ind. as a token of their appreciation of Bremner's "generous conduct in protecting unarmed Union soldiers, swimming for their lives. It is reported that he jumped in front of his victory-flushed comrades and kept them from shooting their swimming enemies." He was reported to be seventy-two years on March 2, 1911 and resided in his later years at Confederate Home at Higginsville, Missouri.. "History of St. Louis County Missouri", Vol. 1; The S.J. Clarke Co.; 1911 [Note A tombstone at the Confederate cemetery in Higginsville, Mo is marked, "W.L. Brenner" (row "D" grave #26) born in 1839 and died in 1920. He served in the 11th Missouri Cavalry CSA]
Maj. James Morgan Utz (1841- 1864) Was a resident of north St. Louis county (Bridgeton area) who at age twenty enlisted in the Confederate Army (8th Infantry Battalion and 9th Missouri Infantry). He was later assigned as a "special agent" operating with southern sympathizers in St. Louis county. On July 1864 five Confederate soldiers exchanged fire with Federals in Jefferson county. A cypherred letter was found on one Confederates that was captured alive. The letter signed by "J.M. Utz" was addressed to Gen. Sterling Price informing him that a Confederate agent was being held at Gratiot Street prison and that three Union militia regiments were on duty in St. Louis. Near Manchester, Maj. J. M. Utz was captured (Sept. 24 1864) while driving a wagon loaded with medical supplies, letters and a cypherbook destined for Price's army. Accompanying him was Paul Fusz (ancestor of St. Louis autodealer Fusz family), both dressed in Federal uniforms. They were confined at Gratiot Street prison on the charges of being a rebel spy, recruting for the Confederate Army and with transporting military information. Maj. Utz's father, Franklin Utz, was also inprisoned as a civilian at this time for "disloyalty" at the very same prison. On Christmas day, Dec 25, 1864 Major James Morgan Utz was executed at the southeast corner of Sixth and Chestnut. He was attended by Father Ward of the Catholic Church who administered his last rights. (Shortly after his death, an official pardon was received from President Lincoln, that would have spared his life.) He was buried at the Fee Fee cemetery with the following epitaph, "Friends weep for him who sleeps beneath this sod, His cruel fate in sympathy deplore, But while you mourn, remember that his God has called him hence, where sorrows are no more." [Source: "The Civil War in St. Louis: A Guided Tour", by William C. Winter, 1995 Missouri Historical Society Press]
Capt. Charles Leslie Kretschmar (Kretschmer) of St. Louis first saw duty as a Lt. in Boone's regiment Missouri Mounted Infantry but was captured (Aug 20, 1862) in Manchester (near the Meramec river). He and his comrades were imprisoned at Gratiot Street prison in St. Louis. Later Kretschmar after being exchanged served as a Captain of Co H 10th Missouri Cavalry. Other German surnamed Confederates of St. Louis captured with Kretschmar were Lt. R. L. Botteller, John T. Eoff , George W. Eoff , Pvt. E.A. Botteller, Pvt. George Shaffner and Pvt. Joseph Seiker.
Other German American C.S. Soldiers
Private William Guehrs (5th Texas Artillery, CSA) (abt. 1841-1864) was awarded the Confederate Medal of Honor for his actions at the Battle of Calcasieu Pass, Louisiana (May 6 1864). "During the first exchange of fire with the enemy gunboat Granite City, Private Guehrs sustained a serious wound to his leg while serving as gunner to the Number One gun in his battery. With one comrade dead and seeing that two guns of his battery were already out of action, Private Guehrs steadfastly refused medical aid and remained with his gun, although compelled by his crippling wound to swab and load the piece from his knees. Despite a deadly crossfire from the gunboat Wave, Pvt. Guehrs continued to load the Number One gun until help arrived and both enemy gunboats were surrendered. On 3 September 1864, Private Guehrs died from his wounds." [source: "This Heroic...Forgotten Ordinary Soldier" in Valor in Gray: The Recipients of the Confederate Medal of Honor. 1996 by Gregg S. Clemer.]
Sgt. Adam Washington Ballenger (13th South Carolina Infantry CSA) (1844-1912) A recipient of the Confederate Medal of Honor for service during the Battle of Deep Bottom, Virginia (28 July 1864). "During the charge of the 12 and 13th South Carolina Regiments which threw the enemy into confusion, Sgt. Ballenger left his command and alone, rushed forward and captured one of the guns of the enemy's artillery. In his desperate fight with the enemy teamsters who sought to retake the cannon and move it to the rear, Sgt. Ballenger, although dangerously exposed to enemy fire, cut the traces of the horses, then mounted the gun and singlehandedly defended the piece until reinforcements arrived." [Source: "He Stands Large in My Memory" in Valor in Gray: The Recipients of the Confederate Medal of Honor. 1996 by Gregg S. Clemer.]
Cpl. C. F. Carlsen (South Carolina German Artillery CSA)
Seaman Arnold Becker ( CSS Indian Chief)

Both these men were part of the seven man crew of the CSS Hunley, the world's first submarine to successfully sink an enemy ship, the USS Housatonic (near Charleston Harbor, South Carolina 17 Feb 1864). "Despite the tragic loss of two previous crews, Corporal Carlsen and Seaman Becker, volunteered for duty on the Hunley. Under the cover of night with nothing to guide them but ship lights and dead reckoning, they surprised, attacked and sank the USS Housatonic with an improvised torpedo as the warship lay anchored more than two miles off shore." After successfully completing its mission, the Hunley signaled those on shore that it was returning to port. It never made it and none of its crew including, Cpl. Carlsen and Seaman Becker, were ever seen again. The crew of seven not only made history but were awarded the Confederate Medal of Honor for their sacrifice. [Source: "The First Submariners" in Valor in Gray: The Recipients of the Confederate Medal of Honor. 1996 by Gregg S. Clemer.]
1st Lt. William Field Rector (39th Arkansas Infantry CSA) Another recipent of the Confederate Medal of Honor. During the Battle of Helena, Arkansas (4 July 1863), "with all the officers of his regiment either wounded or dead, Lt. Rector, as adjutant of the regiment, immediately assumed command and personally led his men in the desperate attack up Graveyard Hill. Pushing rapidly forward, he soon found himself alone, some fifty yards in advance of the line. Fearing that the regiment would falter under the withering fire of the enemy guns and the excessive heat, Lt. Rector single-handedly scaled the breastworks of the enemy. From this dangerous position, just twenty feet from the enemy line, he placed his cap upon his sword, held it out with his right hand and cheered his men forward. Although perilously exposed to massive enemy fire, he continued to wave his cap and exhort his regiment towards the works until hit by a ball, breaking his arm and dropping his sword and cap on the works. Taking up his sword in his left hand, he ran it through the cap and defiantly thrust it aloft once more, encouraging all on the field with his heroic example until he was mortally wounded by a second round." [source: "Gallantry and Undaunted Bravery Signally Distinguished Him" in Valor in Gray: The Recipients of the Confederate Medal of Honor. 1996 by Gregg S. Clemer.]
Famous Confederate Leaders
Major General James Lawson Kemper, C.S.A., born in Virginia, came from the family of John (Johann) Kemper of Oldenburg, Germany, who settled in Virginia in 1714 (The "Palatine Colony"). Maj. Gen. Kemper died in 1895. After the WBTS he served as Governor of Virginia. [Source: Bertil Haggmann, SCV Europe Camp, No. 1612]
Col. Johann August Heinrich Heros von Borcke, was the son of a Prussian nobleman, who was honored in a Resolution of the Confederate Congress ("that the thanks of Congress are due, and the same hereby tendered to Major Heros von Borcke for his selfsacrificing service to our Confederacy, and for his distinguished services in support of our cause"). Von Borcke returned to Germany and after the WBTS wrote "Two Years in the Saddle" in which he desribed his experiences in the war. [Source: Bertil Haggmann, SCV Europe Camp, No. 1612]
Gen. Robert von Massow served in his younger years with Col. John S. Mosby's Virginia Partisan Rangers. Later became a General in the German Army. [Source: Bertil Haggmann, SCV Europe Camp, No. 1612]
Major General Stephen Dodson Ramseur, C.S.A., North Carolina, was descended from German immigrants, who
came to America in the 1750s (Dietrich Ramsauer, meaning that he was from Ramsau, Germany). The name was later made Frenchsounding and changed to Ramseur. [Source: Bertil Haggmann, SCV Europe Camp, No. 1612]
Brigadier General Augustus Buchel, C.S.A., Texas, was born in 1815 in Guthersblum, Hesse. He was an army officer in Spain and the Ottoman Empire and rose to Colonel in the Confederate army. He led the First Regimen of Texas Cavalry, C.S.A. Col. Buchel was killed in 1864. In 1887 the Texas Legislature honoured him by naming a county after Buchel. It was never completely organized and is now part of Brewster County, Texas. [Source: Bertil Haggmann, SCV Europe Camp, No. 1612]
Father Emmeran Bliemel, Chaplain C.S.A. (1831-1864) Born in Ratisbon, Bavaria. Came to America in 1851. Received his religious training at St. Vincent Abbey in Westmoreland Co., PA. Ordained in 1856, he served first in a parish in Covington, KY, before moving to Nashville, TN where he served as Pastor of the Himmelfahrtskirche (Church of Assumption). When the War Between the States broke out, Bliemel sided with the South as "Union men, assisted by their various secret societies" persecuted Catholics. He enlisted as Chaplain of the 10th Tennessee Volunteer Infantry ( seven of ten companies were predominantly Irish Catholics). During the Battle of Jonesboro, Georgia (31 Aug 1864), Bliemel accompanied his troops into the thickest of the fighting, assisting carrying the wounded to the rear. While attending to his regimental commander, Col. Grace, who was mortally wounded, Father Bliemel was decapitated by a cannon ball, while in the act of prayer. He was awarded the Confederate Medal of Honor by the Sons of Confederate Veterans. [Source: "A Gallant Soldier of Christ" in Valor In Gray, The Recipients of the Confederate Medal of Honor, 1996 by Gregg S. Clemmer]
Colonel Von Scheliha, of the German Army had served as a Lieutenant-Colonel of Engineers in the Confederate Army. In his Treatise on Coast Defence, he writes,"…The wonderfully inventive genius and energetic action of the Confederate officers and engineers astounded the world by their achievements in this hitherto practically untried science in naval warfare. They not only made it most effective for sea-coast and harbor defence, but terrible as an agency of attack upon hostile ships of war. Not only that, they brought the torpedo system to such a high state of perfection that little or no advance or improvement has since been made in it. [Source: Southern Historical Society Papers. Vol. XVI. Richmond, Va., January-December. 1888. Southern Genius.]
Switzerland
Brigadier General Felix Kirk Zollicoffer, C.S.A., of Tennessee (1812 - 1862) was a descendant of a family from Altenklingen in Switzerland (Castle Maerstetten in Kanton Thurgau). Gen. Zollicoffer was killed in the battle of Mill Springs 1862. [Source: Bertil Haggmann, SCV Europe Camp, No. 1612]
Brigadier General John Daniel Imboden, C.S.A., (1823 - 1895) commanding the 62nd Virginia Mounted Infantry, bravely covered the retreat after the Battle of Gettysburg. [Source: Bertil Haggmann, SCV Europe Camp, No. 1612]
Captain Heinrich Hartmann Wirz, C.S.A., (1823 - 1865) is probably one of the most famous Confederate martyrs. His birthplace was Zuerich, Switzerland. He was hanged on November 12, 1865, after having been Commander of the Andersonville Prison. He rests at Olivet Cemetery, Washington D.C. [Source: Bertil Haggmann, SCV Europe Camp, No. 1612] "Arrested in a time of peace while under the protection of his parole, Capt. Wirz was nevertheless tried by a military tribunal on charges of excessive cruelty to Federal prisoners held at Camp Sumter. Despite manipulated evidence and perjured testimony, he was convicted and condemed. Yet when offered his life on the eve of his execution if he would but incriminate senior members of the Confederate Government including President Jefferson Davis, he chose to forfeit his life instead of the truth." Capt. Henry Wirz was awarded the Confederate Medal of Honor for his service to the South. [Source: "You Shall Not Utter A False Report" in Valor In Gray, The Recipients of the Confederate Medal of Honor, 1996 by Gregg S. Clemmer]
Note: In "Land and Leute in den VereinigtenStaaten" (Leipzig, 1886), a work by Ernst Hohenwart (possibly a pseudonym), a German who spent nearly thirty years in the United States, and who fought as an officer in the Northern army. "Much has been said of the cruel treatment of Northern soldiers in Southern prisons. Having myself been a prisoner in the South for more than thirteen months, and having been afterwards stationed with my regiment at a place where more than 25,000 Southern soldiers were confined, I think I have a right to an opinion as to the relative treatment of prisoners in the North and South. ...It is true that the Southerners treated their prisoners much less well than the Northerners, for the simple reason that they had not the means to treat them better, and often, especially towards the end of the war, themselves suffered from want." [Source: Southern Historical Society Papers. Vol. XVII. Richmond, Va., January-December. 1889. Prisoners of the Civil War.]
Germanic Surnames in Gray:
(Surname followed by the number of times the name appears in the Confederate Roster compiled by National Archives)
Acker 94
Ackerman/Ackermann 57
Ahlers 1
Albrecht 15
Altman/Altmann 127
Appel/Apel 7
Aultman 26
Arnhardt 5
Arnheart 5
Arenstein 1
Arnold 1323 (possibly multiple origin ??)
Bach 3
Bachman/Bachmann 36
Ballinger 74
Barger 116
Barnhardt 32
Barnhart 52
Barr 317
Barth 14
Barrenger 3
Barriger 3
Barringer 78
Bauer 39
Baughman 93
Baum 49
Bauman/Baumann 26
Baumgardener/Baumgardner/Baumgartner 23
Bausermann 25
Becker 64
Beckman/Beckmann 39
Beimer 4
Berg/Berge 30
Berger 40
Bergheim/Bergheimer 4
Berlin 16
Bernstein 17
Bingman 1
Blankenbecker/Blankenbeker 17
Blankenbeckler/Blankenbecler 5
Blankenship/Blankinship 475 (??origin)
Bodin 15
Boerner 1
Boerstein 1
Borner 6
Brant 45
Braun 17
Brey 7
Brockman/Brockmann 81
Broughman 16
Brumback (Brumbach) 15
Bruns 11
Buehl 1
Buehler 2
Bumgardener 34
Bumgartner 1
Bumgarner 72
Bumgortner 1
Burger 66
Busch 25
Buss 3
Casper 63
Cassell/Kassell 64
Chrisman 61
Coons/Coonse 37
Craun 6
Crause 3
Cullman 1
Decker 113
Deitz 28
Dier 6
Doerr 2
Doll 44
Durst 27
Eckerman/Eckermann 5
Eckert 10
Effinger 15
Eifler 1
Ege 8
Egts (Eigts) 1
Eller 137
Enders 10
Engeman 1
Eoff 28
Faust 70
Fautz 1
Fishbach/Fishback 21
Fischer 36
Feldman 4
Forster 20
Fortune 94
Fowler 1207
Franck/Franke 13
Frank/Franke 178 (*possible multiple origin)
Freiberg 1
Freidhoff 1
Freidman 1
Froelich 4
Fuch/Fuchs 16
Gabel/Gable 72
Gareiss 2
Gass 47
Geiger/Geigers 107
Gesler/Gessler 5
Geis/Geise 6
Geissler 2
Gephart 4
Gisch 1
Goebel 8
Goeble 1
Goetz 5
Gotting 1
Grier 164
Gross 223
Grun 2
Guelker 1
Haller 47
Hager 100
Hagerman/Haggermann 28
Harman 414
Hartman 207
Hartmann 11
Hashbarger 5
Hass/Haus 46
Hauser/Hausser 64
Heide 3
Heidelberg 13
Heidelberger 1
Heim 9
Heinrich/Heinrichs 8
Heins 18
Helm 124
Helsley/Helsly 14
Henkle 42
Henn 1
Herman/Hermann 106
Herrman/Herrmann 14
Hess/Hesse 166
Hey 5
Highbarger 4
Hinegarden 1
Hinegardener 3
Hinrichs 3
Hite 169
Hiter 9
Hitt 181
Hoff 47
Holstein/Holsteine 24
Holsten 5
Holt 1090
Holtston 48
Holtzclaw 53
Holtsclaw 9
Holtzhauser/Holtzhouser 4
Holtzhaeuser 3
Holtzman 12
Holtzsheiter 1
Hoffman/Hoffmann (also Hofman/Hofmann ) 377
Hornbarger 11
Hornberger 8
Houck/Houcke 55
Huber 26
Huff 446
Huffman/Huffmann 571
Isenberg/Isenburg 3
Isenhood 2
Isenhaur/Isenhour 19
Isenhart 2
Isenhower 21
Jung 10
Kaiser/Kiser 200
Keil 4
Kefer/Keffer 30
Keller 456
Kemper 113
Kernodle/Kernodles 18
Kessler 55
Ketterman/Kettermann 17
Klee 5
Kleeman 1
Klein/Kleine 59
Keifer/Keiffer 22
Kiefer/Kieffer 13
Kling/Klinge 17
Klingenberg 1
Knap/Knapp 77
Koch/Koche 34
Koenig 20
Koerner 4
Kohler 24
Koehler 9
Konig 9
Koontz 60
Koonts 16
Kramer 50
Krantz 9
Kranz 2
Kraul 1
Kraus/Krauss 29
Krause 33
Krauz/Krautz 5
Kretschmar/Kretschmer 5
Kretzer 3
Kretzmeier 1
Krohn/Krohne 11
Kroll 5
Krueger 7
Kruger 14
Kussman 1
Lampert 13
Lange 42
Latimer 159
Lauer 4
Lemke 1
Leopold 22
Lintz 8
Lung 2
Marker 14
Meier/Meiers 16
Meiss 1
Meister 10
Metzger 31
Metzinger 2
Metzler 12
Meyer/Meyers 410
Mohler 24
Mollenhauer 2
Mueller 18
Muhl 2
Muhlenburg 1
Muller 141
Musselman 16
Nagel 14
Nagle 41
Neuman/Neumann 66
Ostendorf/Ostendorff 6
Peters 519 (*possible multiple origin)
Petri 7
Petsch 5
Pfeifer/Pffeifer 27
Pick 5
Pieper 11
Pohlman/Pohlmann 2
Pullman 3
Raube 1
Rausch 3
Rehkopf 1
Rector 186
Riemenschneider 2
Reinhart 28
Reinhardt 42
Reinheart 6
Reipschlager 1
Richter 40
Riddle 432
Riddlebarger 5
Riddleberger 3
Riesbeck 1
Riesdorf 1
Riese 2
Riesner 2
Rife 27
Riffe 26
Risch 2
Ritter 185
Roeder 11
Roth 61
Rothrock 42
Rub 4
Ruff 151
Ruth 71
Saling 4
Salinger 3
Schaffer 32
Schaeffer 29
Schank 3
Schuessler 2
Schlegel 2
Schlegle 1
Schmidt/Schmidtt 212
Schmit/Schmitt 30
Schneider/Schnider 114
Schrader 19
Schraeder 3
Schroeder 46
Schroder 37
Schultz/Schultze 74
Schulz/Schulze 29
Schwartz 64
Schwartze 1
Schwarz 13
Seedorf/Seedorff 2
Shafer/Shaffer 212
Sherrin 6
Shufflebarger 15
Shumaker 60
Seibert 40
Seifert/Seiffert 5
Shafer 83
Shaffer 129
Shaffner 9
Shaver/Shavers 247
Siegler/Sigler 42
Snider 346
Snyder 280
Spaeth 2
Spiegle 1
Spiegleberg 2
Spillman/Spillmann 58
Sprinkle/Sprinkles 90
Stalnacher 3
Stalnacker 1
Stalnaker 68
Stark 143
Starke 115
Straus/Strauss 42
Seibert 40
Stein 68
Steines 1
Steiner 34
Stephan 7
Stover/Stovers 132
Strehle 3
Stroble 14
Stull 50
Swarts 14
Swartz/Swartze 77
Swisher/Swissher 47
Switzer 79
Taub 1
Teutsch 5
Theis/Theiss 9
Theisman 1
Tschiffely 1
Tumm 3
Uhl/Uhle 9
Urban 8
Uttz 3
Utz 47
Utzman 5
Voelkel 5
Vogel 27
Vogt/Vogts 20
Volkman 5
Multiple Origin Surnames
(Those common to more than one nationality or anglicized forms of Germanic surnames)
Babb 161
Battle 193
Black 1558
Brown 10561
Crowel/Crowell 184 (Angelicized format for Kraul, Kroll from Palatinate)
George 896
Hodge 525
Martin 6197
Miller 6188
Thomas 4824
Ross 1403
Sanders 2211
Saunders 1096
Shoemaker 234
Smith 21185 (probably the most common name of them all)
Primary Sources for German surnames:
Robert M. Doerr
Rhonda Houston
Joseph R. Reinhart
Ernest Thode (German Cross Index, workshop at Claremont/Sacremento, CA)
S & F 18th and 19th Century Rhineland Emmigrants
Other Sites to Visit:
Mobile German Fusiliers [Co. H 8th Alabama Infantry]
German Americana