4 articles
... The following are Native American Confederate soldiers, derived from records of the National Archives. This listing is to give the reader a better understanding of the ethnic variance within the southern ranks. It is far from being a complete listing of Native American Confederates. Most of the soldiers below had only one traditional Indian name, instead of a Christian/Anglo first and last names. Many others not listed had taken on Christian first names and kept their traditional Indian name as a last names. (Note: the remark "No First Name" should be ignored, it is not part of the soldier's name.) A har lock NS 1st Creek Mtd.Vol. Co.F A po to tubbee 1st Choctaw & Chickasaw Mtd.Rifles 2nd Co.C A tun...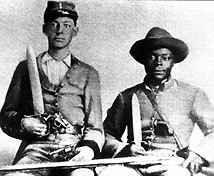 ... Black Confederates Why haven't we heard more about them? National Park Service historian, Ed Bearrs, stated, "I don't want to call it a conspiracy to ignore the role of Blacks both above and below the Mason-Dixon line, but it was definitely a tendency that began around 1910" Historian, Erwin L. Jordan, Jr., calls it a "cover-up" which started back in 1865. He writes, "During my research, I came across instances where Black men stated they were soldiers, but you can plainly see where 'soldier' is crossed out and 'body servant' inserted, or 'teamster' on pension applications." Another black historian, Roland Young, says he is not surprised that blacks fought. He explains that "&helli...
Scott K. Williams
...One of the most overlooked group of soldiers that served in the Confederate Army are those individuals having Germanic surnames. While much attention is made to the large numbers of Germans that served in the Union Army, little is publicized about their southern counterpart or about the descendants of early Germanic immigrants that made it to this country as early as 1714, when the first German colony was established in Orange Co., Virginia. Broadfoot Publishers has recently released on CD ROM a compilation known as the "Roster of Confederate Soldiers 1861-1865", containing records from the National Archives. Included in the 1.5 million entries are the soldier's names, rank, and unit/regiment. This is a survey about the Confederate soldiers bearing ...
...The names below are only a sample of the total number of Hispanics serving in the Southern army. Nevertheless, it illustrates the significance of the Hispanic contribution to the Confederate armed forces. Alabama Division Commander of the SCV, David Toifel, correctly observes that, "For too many years the Confederate soldier was portrayed only as white, predominately Scots-Irish and Protestant. New studies are not so much changing a myth as they are adding the color and diversity which has always existed in the South to its proper place in our history. "Not only was there diversity in Confederate ranks, but there was a broad racial makeup of Hispanics living in the Old South. Hispanics, then and now, include members of European, Indian, African races or even more comm...